Thursday, September 2, 2010
Yep you read it right I have a new freebie kit! It is that time of year again that we put up all our summer toys and pull out the backpacks and set the alarms to wake up early and send the kids off to school. So to celebrates moms quite times again, Kara from Sweet Craving Scraps and I have teamed up to give you 2 awesome kits! You can pick up Part 1 from me and Part 2 from Kara
HERE
Part 1 Preveiw by Me (Creative Scraps by Crys)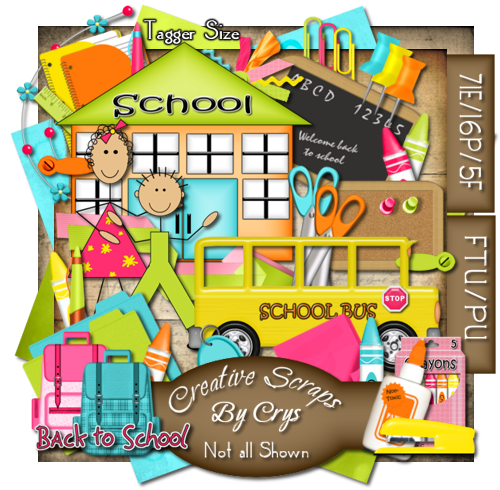 Here is the Preview for Part 2
13 comments:

Anonymous said...
nice colors , nice design , thanks for this beautiful freebie :-)
Thank you so much for this cute kit.
Thank you for the great kit!
Hugs, Ellie
Thank you for the wonderful Kit
Gracias por compartir estas bellezas.
saluditos desde Argentina

Thanks for the kit hun! I just downloaded the other part
So cute! Thank you for sharing!

Post a Comment
Categories
Autumn
(6)
Awards
(5)
birthday
(1)
Birthstone Series
(1)
Black friday
(1)
Blog Train
(24)
Books
(1)
Boys
(1)
Buy My Store
(1)
Charles Bristow
(4)
chit chat
(4)
christmas
(7)
Coffee
(1)
collab kits
(9)
CT
(5)
CT Blog
(1)
CT Call
(2)
CT Tutorials
(35)
CU freebie
(9)
Dance
(1)
DOTM Tagging Angels
(1)
Easter
(3)
Emo
(3)
Exclusives
(3)
Facebook Exclusive
(1)
February
(1)
Followers
(1)
freebies
(46)
Freeks Creations
(2)
FTU kit
(18)
FTU Quick Page
(1)
FTU Tutorials
(4)
gifts
(1)
Girly
(1)
Halloween
(7)
January Rain
(7)
License
(1)
Limited time Freebie
(1)
Mardi Gras
(1)
MEM
(1)
Mothers Day
(1)
Mystical Scraps
(8)
November
(1)
Party
(1)
pressies
(4)
PTU Borders
(2)
PTU Clusters
(7)
PTU CU
(16)
PTU CU collab
(1)
PTU kits
(70)
PTU tutorial
(20)
Punk
(1)
quick pages
(2)
Reading
(1)
Romance
(1)
sales
(38)
Samples
(1)
School
(1)
scrap kits
(5)
Scrappin Dollars
(23)
Scrappin you ♥ Out
(5)
Scrappin your ♥ Out
(5)
siggy
(2)
Sleep
(1)
spring
(2)
St. Patricks Day
(3)
Stacked Papers
(2)
Summer
(1)
Sweet Addictionz Scraps
(1)
Tag Haven Blogtrain
(1)
Tagging Angels
(2)
tags
(1)
Tattoo
(1)
templates
(22)
TKO
(26)
Tubes
(1)
updates
(1)
Valentines
(5)
Vintage
(1)
winter
(6)
Wordart
(1)
Zombies
(1)

About Me
Archives