Stores I sell In

Follow Me
Please follow me on facebook
HERE
!


Tuesday, September 14, 2010
Yep it is the 15th again and that means another freebie and blog train. The theme this month was Animal Crackers, and everyone did such a great job, so don't forget to stop by and ride the train! Here is a preview of my part, it is taggers size and full of cute elements! Here is the preview, just click preview to download!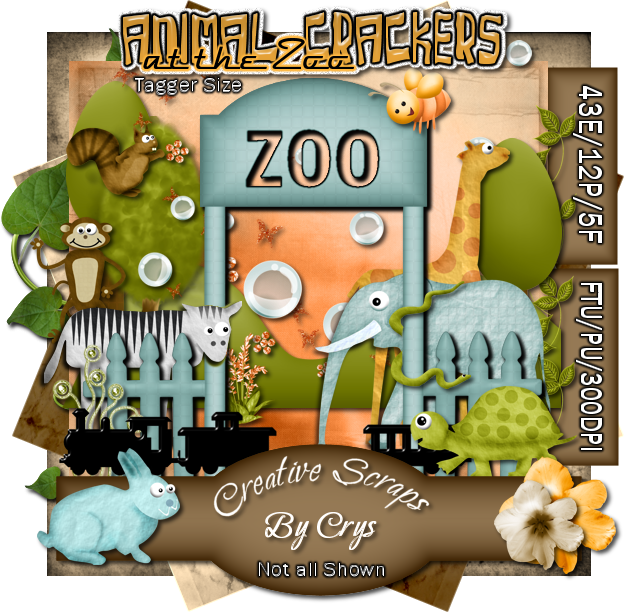 Stina ::designs by stina::
Tootypup: Tootypup Scraps
Cari: Black Widow Creationz
Charlene: Memory Lane Creations
Crys: Sinfully Creative Scraps
Gina: KiKeKa Kits
Jill: Created by Jill
Jessica: Jessica's Sweet Nothings
Kara: Sweet Cravings Scraps
Linda: Candy Wrap's Printed TReasures
Mystee: Majik Of Mystee Designz
Nette: Nette's NightOwl Works
Nikki: Creative Intentionz
Wy: Designs by LK
6 comments:
Thank you for your part of this super cute blog train! :)
Hi Crys, thanks for sharing! So cute!
Th♥nks for sharing! This is an awesome theme for your BT.
Thank you, I love this kit!
Hugs, Ellie
thank you for sharing this adorable contribution!
Post a Comment
Categories
Autumn
(11)
Awards
(6)
Beach
(2)
birthday
(1)
Birthstone Series
(1)
Black friday
(1)
Blog Train
(26)
Book
(2)
Books
(3)
Boys
(1)
Buy My Store
(2)
Carrie Hogle Author
(4)
CDO
(3)
Charles Bristow
(5)
chit chat
(5)
christmas
(8)
Circus
(1)
Coffee
(2)
collab kits
(10)
CT
(5)
CT Blog
(1)
CT Call
(2)
CT Tutorials
(35)
CU freebie
(19)
Dance
(1)
Dees'Sign Depot
(1)
Dia De Los Muertos
(1)
DOTM Tagging Angels
(1)
Easter
(3)
Emo
(3)
Exclusives
(3)
Facebook Exclusive
(1)
Fariy Tales
(1)
February
(2)
Followers
(1)
freebies
(47)
Freeks Creations
(2)
FTU Clusters
(1)
FTU kit
(20)
FTU Quick Page
(1)
FTU Tutorials
(4)
gifts
(1)
Girly
(1)
Halloween
(9)
Heartbeatz Creationz
(4)
Horror
(1)
January Rain
(7)
Kids
(2)
License
(1)
Limited time Freebie
(6)
Living Dead Blogtrain
(2)
Mardi Gras
(1)
MEM
(1)
Mothers Day
(1)
My Memories
(1)
Mystical Scraps
(16)
November
(1)
Party
(2)
pressies
(4)
PTU Borders
(5)
PTU Clusters
(12)
PTU CU
(24)
PTU CU collab
(1)
PTU IB Scrap Kit
(3)
PTU kits
(89)
PTU Scripts
(1)
PTU Stacked Papers
(1)
PTU tutorial
(20)
Punk
(1)
quick pages
(2)
Reading
(1)
Romance
(3)
sales
(40)
Samples
(1)
School
(1)
scrap kits
(5)
Scrappin Dollars
(23)
Scrappin you ♥ Out
(5)
Scrappin your ♥ Out
(21)
ScrapsNCo. Wonderland
(1)
Scripts. Mystical Scraps
(1)
Scriptz R Us
(1)
Shopping
(1)
siggy
(2)
Sleep
(1)
spring
(5)
St. Patricks Day
(4)
Stacked Papers
(2)
Summer
(3)
Sweet Addictionz Scraps
(1)
Tag Haven Blogtrain
(1)
Tagging Angels
(2)
tags
(1)
Tattoo
(2)
Tea Party
(1)
templates
(22)
TKO
(26)
Tools
(1)
Treasured Scraps
(2)
Tube Inspired kits
(1)
Tubes
(3)
updates
(1)
Valentines
(6)
Vintage
(1)
Whimsy
(2)
winter
(11)
Wonderland
(1)
Wordart
(1)
Zombies
(2)

About Me
CU Credit

Archives