Stores I sell In

Follow Me
Please follow me on facebook
HERE
!


Saturday, March 5, 2011
I did finish a new kit that is now in the store! It is in Tagger Size and Full Size. I named the kit Eggcellent Adventure because every year the Easter Bunny journeys out into the world to deliver goodies to all the kids! How exciting his job must be! It also represents the more whimsical side of easter and spring! This kit can be used in so many ways, not just for Easter! Here is the preview, You can find it
HERE
at the store.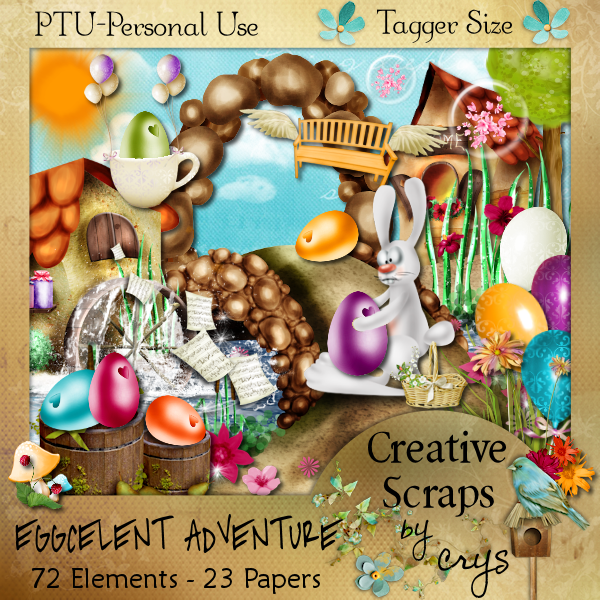 It is loaded wtih flowers, ribbons, bows, greenery, frames, and everything you see in the preview
You can find it Exclusivly at Scrappin Dollars and right now both the Full size and Tagger size are on sale for $1!
I also have a suprise for you all this month! A little freebie for my blog turning 1 yrs old! Can you believe I have been making scrap kits for a yr now? It seems like just yesterday I was muddling around trying to figure all this scrap kit making business out...lol! So keep checking back! I will have some pressies for you all!
Categories
Autumn
(11)
Awards
(6)
Beach
(2)
birthday
(1)
Birthstone Series
(1)
Black friday
(1)
Blog Train
(26)
Book
(2)
Books
(3)
Boys
(1)
Buy My Store
(2)
Carrie Hogle Author
(4)
CDO
(3)
Charles Bristow
(5)
chit chat
(5)
christmas
(8)
Circus
(1)
Coffee
(2)
collab kits
(10)
CT
(5)
CT Blog
(1)
CT Call
(2)
CT Tutorials
(35)
CU freebie
(19)
Dance
(1)
Dees'Sign Depot
(1)
Dia De Los Muertos
(1)
DOTM Tagging Angels
(1)
Easter
(3)
Emo
(3)
Exclusives
(3)
Facebook Exclusive
(1)
Fariy Tales
(1)
February
(2)
Followers
(1)
freebies
(47)
Freeks Creations
(2)
FTU Clusters
(1)
FTU kit
(20)
FTU Quick Page
(1)
FTU Tutorials
(4)
gifts
(1)
Girly
(1)
Halloween
(9)
Heartbeatz Creationz
(4)
Horror
(1)
January Rain
(7)
Kids
(2)
License
(1)
Limited time Freebie
(6)
Living Dead Blogtrain
(2)
Mardi Gras
(1)
MEM
(1)
Mothers Day
(1)
My Memories
(1)
Mystical Scraps
(16)
November
(1)
Party
(2)
pressies
(4)
PTU Borders
(5)
PTU Clusters
(12)
PTU CU
(24)
PTU CU collab
(1)
PTU IB Scrap Kit
(3)
PTU kits
(89)
PTU Scripts
(1)
PTU Stacked Papers
(1)
PTU tutorial
(20)
Punk
(1)
quick pages
(2)
Reading
(1)
Romance
(3)
sales
(40)
Samples
(1)
School
(1)
scrap kits
(5)
Scrappin Dollars
(23)
Scrappin you ♥ Out
(5)
Scrappin your ♥ Out
(21)
ScrapsNCo. Wonderland
(1)
Scripts. Mystical Scraps
(1)
Scriptz R Us
(1)
Shopping
(1)
siggy
(2)
Sleep
(1)
spring
(5)
St. Patricks Day
(4)
Stacked Papers
(2)
Summer
(3)
Sweet Addictionz Scraps
(1)
Tag Haven Blogtrain
(1)
Tagging Angels
(2)
tags
(1)
Tattoo
(2)
Tea Party
(1)
templates
(22)
TKO
(26)
Tools
(1)
Treasured Scraps
(2)
Tube Inspired kits
(1)
Tubes
(3)
updates
(1)
Valentines
(6)
Vintage
(1)
Whimsy
(2)
winter
(11)
Wonderland
(1)
Wordart
(1)
Zombies
(2)

About Me
CU Credit

Archives