Stores I sell In

Follow Me
Please follow me on facebook
HERE
!


Thursday, February 10, 2011
This is the last Valentines kit I am going to make, and I was able to get it done, just in time! Whew...didn't think I was ever going to. Jen (Sleek N Sassy) helped me name this one...I think it's cute. The name of this kit is Chicky Love. The main element that I centered this kit around are these 2 adorable chickens in love. They are from Olga Unger at Cu4you!
This kit has 70 amazing elements and 18 papers. I just couldn't fit everything into the preview so not all elements are shown. I hope you enjoy this kit as much as I did making it. You can pick this kit up in Stores now! Here is the preview of it.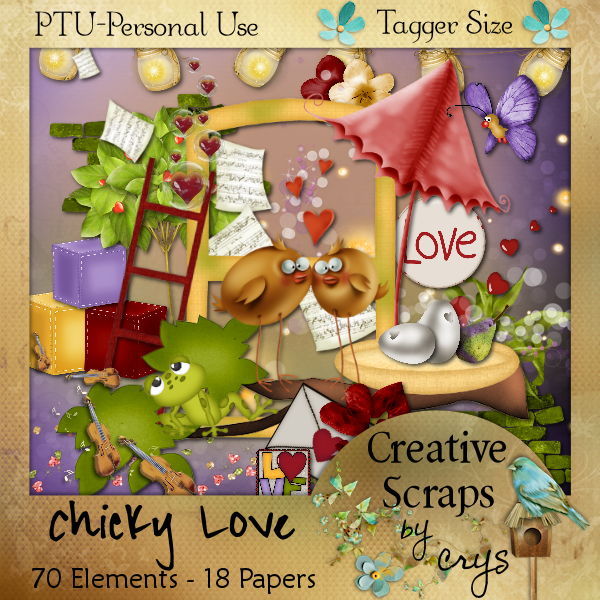 1 comments:
wow!!! it's absolutely cute kit. I love it!!!
Post a Comment
Categories
Autumn
(11)
Awards
(6)
Beach
(2)
birthday
(1)
Birthstone Series
(1)
Black friday
(1)
Blog Train
(26)
Book
(2)
Books
(3)
Boys
(1)
Buy My Store
(2)
Carrie Hogle Author
(4)
CDO
(3)
Charles Bristow
(5)
chit chat
(5)
christmas
(8)
Circus
(1)
Coffee
(2)
collab kits
(10)
CT
(5)
CT Blog
(1)
CT Call
(2)
CT Tutorials
(35)
CU freebie
(19)
Dance
(1)
Dees'Sign Depot
(1)
Dia De Los Muertos
(1)
DOTM Tagging Angels
(1)
Easter
(3)
Emo
(3)
Exclusives
(3)
Facebook Exclusive
(1)
Fariy Tales
(1)
February
(2)
Followers
(1)
freebies
(47)
Freeks Creations
(2)
FTU Clusters
(1)
FTU kit
(20)
FTU Quick Page
(1)
FTU Tutorials
(4)
gifts
(1)
Girly
(1)
Halloween
(9)
Heartbeatz Creationz
(4)
Horror
(1)
January Rain
(7)
Kids
(2)
License
(1)
Limited time Freebie
(6)
Living Dead Blogtrain
(2)
Mardi Gras
(1)
MEM
(1)
Mothers Day
(1)
My Memories
(1)
Mystical Scraps
(16)
November
(1)
Party
(2)
pressies
(4)
PTU Borders
(5)
PTU Clusters
(12)
PTU CU
(24)
PTU CU collab
(1)
PTU IB Scrap Kit
(3)
PTU kits
(89)
PTU Scripts
(1)
PTU Stacked Papers
(1)
PTU tutorial
(20)
Punk
(1)
quick pages
(2)
Reading
(1)
Romance
(3)
sales
(40)
Samples
(1)
School
(1)
scrap kits
(5)
Scrappin Dollars
(23)
Scrappin you ♥ Out
(5)
Scrappin your ♥ Out
(21)
ScrapsNCo. Wonderland
(1)
Scripts. Mystical Scraps
(1)
Scriptz R Us
(1)
Shopping
(1)
siggy
(2)
Sleep
(1)
spring
(5)
St. Patricks Day
(4)
Stacked Papers
(2)
Summer
(3)
Sweet Addictionz Scraps
(1)
Tag Haven Blogtrain
(1)
Tagging Angels
(2)
tags
(1)
Tattoo
(2)
Tea Party
(1)
templates
(22)
TKO
(26)
Tools
(1)
Treasured Scraps
(2)
Tube Inspired kits
(1)
Tubes
(3)
updates
(1)
Valentines
(6)
Vintage
(1)
Whimsy
(2)
winter
(11)
Wonderland
(1)
Wordart
(1)
Zombies
(2)

About Me
CU Credit

Archives